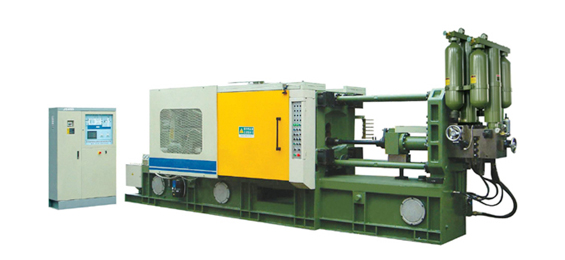 Horizontal Cold Chamber Die-Casting Machine
Special note
Cold chamber die casting machines are built to cast all kinds of aluminum and copper products, building materials, industrial parts, auto parts etc.
Standard Features:
1.High strength cast steel tailstock platen and wear resistance high tensile strength chromium-plated steel alloy tie bar.
2.Multi stage pressure control for die opening and closing, low pressure clamping device for die protection.
3.Gear type die height adjustment is driven by hydraulic motor.
4.Centralized lubrication system.
5.Quick hydraulic ejector and core pulling device.
6.Injection process with 3 stages pressure and speed control, piston type accumulator for 2nd stage injection and intensifier.
7.Automatic plunger lubrication device.
8.High quality hydraulic components.
9.Energy saving, double pumps hydraulic system.
Details
ITEM

UNIT

DCC130

DCC160

DCC280

DCC400

DCC500

DCC630

DCC700

DCC800

DCC1000

DCC1250

DCC1600

DCC2000

DCC2500

DCC3000

CLAMPING

KN

1450

1600

2800

4000

5000

6300

7000

8000

10000

12500

16000

20000

25000

30000

CLAMPING STROKE

mm

350

380

460

550

580

650

720

760

880

1000

1200

1400

1500

1500

DIE HEIGH (MIN-MAX)

mm

250-500

200-550

250-650

300-700

350-850

350-850

350-900

400-950

450-1150

450-1180

500-1400

650-1600

750-1800

800-2000

PLATEN SIZE (H×V)

mm

650×657

680×684

860×860

970×960

1162×1162

1200×1200

1300×1300

1400×1395

1620×1620

1730×1740

2010×1960

2150×2150

2350×2350

2620×2620

SPACE BETWEEN TIE BARS

mm

429×429

460×460

560×560

620×620

760×760

750×750

800×800

910×910

1030×1030

1100×1100

1180×1180

1350×1350

1500×1500

1650×1650

TIE BAR DIAMETER

mm

80

85

110

130

140

160

170

180

200

230

250

280

310

340

INTESIFIER INJECTION FORCE
(with intensification)

KN

180

254

315

405

460

610

640

665

865

1075

1285

1500

1700

2110

INJECTION STROKE

mm

320

340

400

500

580

600

700

760

800

880

930

960

1050

1180

PLUNGER DIAMETER

mm

40 50 60

40 50 60

50 60 70

60 70 80

70 80 90

70 80 90

80 90 100

80 90 100

90 100 110 120

101-140

110-150

130-170

140-180

150-190

SHOT WEIGHT

kg

0.7 1.15 1.6

0.8 1.3 1.8

1.5 2.1 2.9

2.7 3.6 4.7

4.3 5.6 7.1

4.3 5.7 7.2

6.5 8.3 10

7.2 9.1 11.2

9.5 11.7 14.2 16.9

13-25.4

17-32

24-41

30-50

39-62

CASTING PRESSURE
(with intensification)

MPa

141 90 62

202.3 129.5 89.9

162 112.5 82.6

144.4 106.1 81.2

122 93 73.5

158.7 121.5 96

127 100 81

132.8 104.9 85

136 110 91 76.5

137-70

137-73

113-66

110-66

119-73

CASTING AREA

cm2

90 140 205

72.5 120 175

170 245 335

275 375 490

405 535 680

395 515 655

550 700 860

600 760 940

730 905 1095 1305

910-1785

1165-2190

1769-3030

2270-3785

2520-4110

MAX CASTING AREA UNDER 40MPa

cm2

362

400

700

1000

1250

1575

1750

2000

2500

3125

4000

5000

6250

7500

SHOT INJECTION POSITION
(below center line)

mm

0,-100

0,-70,-140

-125

-175

-175

-250

-250

-250

0,-300

-160,-320

-175,-350

-175,-350

-200,-400

-250,-450

PLUNGER PENETRATION

mm

115

135

140

200

250

250

250

297

300

320

360

400

450

530

DIAMETER OF PRESSURE CHAMBER FLANGE

mm

110

101.6

101.6

101.6

165

165

150

200

240

240

260

260

280

280

HEIGHT OF PRESSURE CHAMBER FLANGE

mm

10

12

12

12

15

15

15

20

20

25

25

30

30

30

EJECTOR FORCE

KN

108

108

150

180

240

315

315

315

500

570

570

650

750

900

EJECTOR STROKE

mm

85

85

105

125

120

150

160

180

200

200

250

300

300

300

HYDRAULIC WORKING PRESSURE

MPa

14

14

14

14

16

14

14

14

16

14

14

16

16

16

DRIVING MOTOR

KW

15

15

18.5

22

30

37

37

37

45

2×37

2×45

2×55

135

165

HYDRAULIC OIL TANK CAPACITY

L

300

400

600

800

1000

1000

1100

1200

1500

2500

2600

2800

3000

3200

MACHINE WEIGHT

kg

6000

6300

10500

15000

25000

27600

38000

39400

70000

90000

105000

135000

195000

235000

MACHINE DIMENSIONS(L×W×H)

mm

5500×1250×2650

5590×1300×2660

6420×1410×2560

6800×1600×2660

7500×2100×3000

7460×2100×2830

8000×2300×3000

8660×201082780

10560×3500×3800

10800×3250×4200

1150×4000×4200

12710×4370×4380

15000×5000×4800

15750×5250×5180