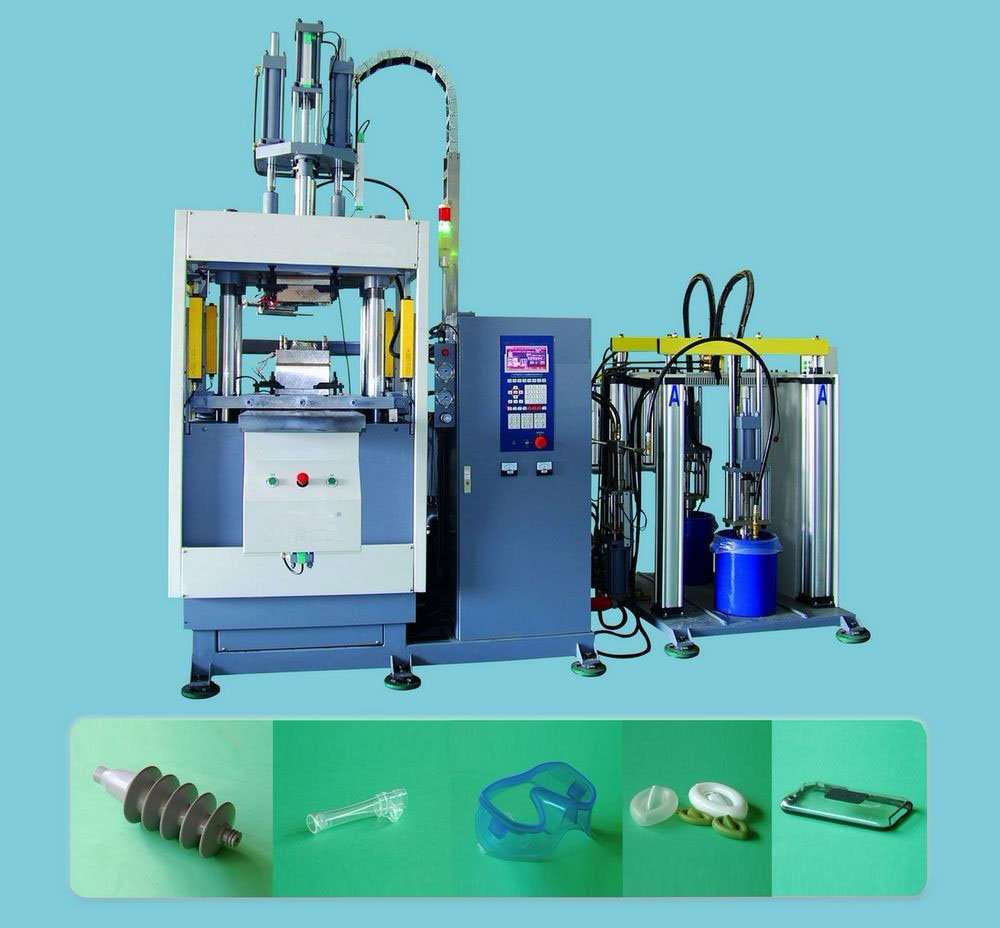 Silicon Vertial Injection Moulding Machine
Special note
Vertical 120T direct pressure LSR injection molding machine M-L5058:
Marks 1:
20kg/200kg dosing unit + 120T Vertical direct pressure LSR injection machine
The features of 20kg/200kg dosing unit:
1.
There is controlling system special for LSR machine on it. ( Multi-function, simple for operation)
2.
Exact ration pump ( the proportion can be controlled steadily)
3.
Static mixed ststem.( the materials can be mixed adequately)
4.
High-efficiency LSR pumping system. ( very convenient for gas venting, fast LSR pumping)
The 120T vertical direct pressure LSR injection molding machine TYM-L5058 (single sliding board)
1.
the effective template: 500 × 580mm
3.
Opening stroke: 150 - 550mm
1. Mixed mode: static mixer 1:1 shot volume is 120CC.
2. Drive molde: the LSR pumping and clamping is drived by the hydraulic pressure, the platen is controlled by
3. Piping system: it includes the hard pipe, soft pipe, one-way valve, mixing head, static mixer.
4. hydraulic system: oil pump: Yuken. Motor: Hongling proportional valve and magnetic valve: Yuken.
5. Pneumatic system: the up and down air cylinder for the material pump: Stars other Pneumatic system: AirTAC
6. controller system: the CPU is ATMEL brand from USA, the electrical ruler is Ruibo brand from Taiwan.
7. Electrical system: leakage switch: Schneider Relay, push botton switch and proximity switch: Omron
Mark 2 :
other spare parts needed (we recommended)
1. 1 set of sealing elements
2. 5 Pcs of plastic tube for deliveing the LSR material
4. 2 Pcs of four points three-way ball valve (Pneumatic accessories) In RMB: 1008
Mark 3 :
color paste pump for adding color (optional)
1.
the precision of the color paste pump can achieve 0.01g
2.
the color pump adding is of very high stability and durative
3.
it is very easy to clean and maintain.
4.
the structure is very porcelain and easy for operation.
Details
M-L5058

INJECTON UNIT

note

:

Assuming the LSR density:

1.2g/cm3

THE DIAMETER OF INJECTION PAIL

mm

THE LENGTH OF INJECTION PAIL

mm

SHOT VOLUME(THEORETCAL)

ml

TEMPLATE DIMENSION

(W×H)

mm

MIN. MOLDBOARD DISTANCE

mm

MACHINE DIMENSION(L×W×H)

mm

3200

×

2100

×

3000

(including the dosing unit)

MOULD ORIENTATION RING DIAMETER

mm

THE SPECIFICATION OF THE DOSING UNIT

kg