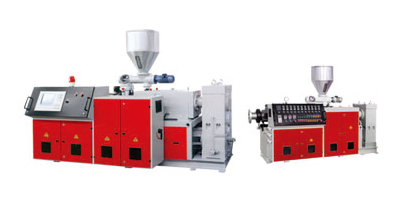 Conical Twin Screw Plastic Extruder
Special note
Model SJSZ series conical twin-screw plastic extruder is used for extrude PVC to become plastic pipe,profile,plate and etc when change diffreent mould,screw and auxiliary equipments.
It includes screw,barrel,gear transmission system,heating,cooling and electric control and etc.
The screw has applied oil cooling system.Barrel is cooled by special wing cooling system.Vacuum exhausting and material feeding device is fixed with machine.
Details
| | | | | | | |
| --- | --- | --- | --- | --- | --- | --- |
| Model | SJSZ45/90 | SJSZ51/105 | SJSZ55/110 | SJSZ65/132 | SJSZ80/156 | SJSZ92/188 |
| Screw diameter(mm) | 45/90 | 51/105 | 55/110 | 65/132 | 80/156 | 92/188 |
| Quantity of screws | 2 | 2 | 2 | 2 | 2 | 2 |
| Max. rotation speed of screw (r/min) | 45 | 40 | 38 | 38 | 37 | 36 |
| Effective length of screw (mm) | 99 | 1200 | 1200 | 1440 | 1800 | 2500 |
| Main motor power(kw) | 15 | 18..5 | 22 | 37 | 55 | 110 |
| Production capacity (kg/h) | 70 | 100 | 150 | 250 | 400 | 750 |
| Centre height (mm) | 1000 | 1000 | 1000 | 1000 | 1100 | 1200 |
| Dimensions(L x W x H) mm | 3360 x 1290 x 2127 | 3360 x 1290 x 2127 | 3620 x 1050 x 2157 | 3715 x 1520 x 2450 | 4750 x 1550 x 2460 | 6725 x 1550 x 2814 |